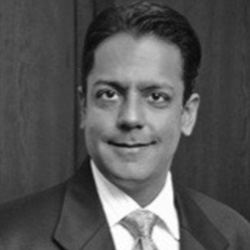 Sanjay Kamlani
Advisory Board Member
Sanjay Kamlani is an entrepreneur, business builder and legal industry leader, with expertise in building profitable, high-growth legal businesses. Sanjay currently serves as a consultant for businesses in the legal industry including a litigation funding business based in Dallas, Texas and legal technology and database business based in New York, Matterhorn Transactions, where Sanjay serves as Executive Chairman.
Previously, Sanjay was Co-Founder and former Co-CEO of Pangea3. Acquired by Thomson Reuters in 2010, Pangea3 was the #1 ranked legal process outsourcing (LPO) provider worldwide, and grew to over 1,000 employees globally with annual revenue exceeding $40 million during Sanjay's tenure. Pangea3 provides innovative global legal solutions to Fortune 1000 corporations, in-house counsel and law firms, and has received numerous accolades and industry awards.
Prior to forming Pangea3, Sanjay was a Co-Founder, Board Member, CFO & General Counsel of OfficeTiger, the pioneer in offshore professional support services outsourcing for law firms and financial services firms, acquired by RR Donnelly in 2006. Prior to OfficeTiger, Sanjay spent six years as a lawyer at PricewaterhouseCoopers advising US based multinationals on cross-border M&A transactions, green field projects, joint ventures and investments.
Sanjay speaks frequently and is quoted widely on entrepreneurship, cross-border business management, legal process innovation, outsourcing and offshoring. He has been featured in numerous media outlets, including American Bar Journal, The Wall Street Journal, Inc. Magazine, CNBC, and The American Lawyer.
Sanjay graduated from Duke University in 1991 with a BA in Economics and Public Policy and from the University of Pennsylvania Law School in 1994 where he earned a JD and served as an Associate Editor on the Law Review. Sanjay is admitted to the New York Bar.